You will find my
life, is probably
a lot like yours...
Welcome to a page that will sum up my life in humorous rants and everyday life with children. Life in this house is fast, loud and chaotic at times. With four kids we always have something going on in this home. It can range from dinner time, softball practice to a sibling argument (which at times I have to sit back and enjoy the small moments of their misery). I will share things with you from our life and its up to you to keep up.
Also, let me say that I do not pretend to a perfect little Mommy or the perfect little wife, I have my moments and I only share because, well...I want another person out there to feel safe and comfortable if their life is not the way we planned at 9 years old in a fairy tale world. We make mistakes, we get dirty, we cry and we laugh. Why? because we are women and we are hormonal and we dont really know what the hell we want. My goal is touch others with my life stories and situations and hopefully you can relate and know you are not alone.

SheJeeves
Powered by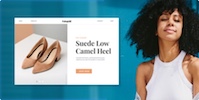 Create your own unique website with customizable templates.